All the New Things: My Personal Life
This is the third and final installment in a short series I'm calling All the New Things.
It's now a few days after my birthday, I'll wrap up my reflections on the past year and some of the changes that I've seen.
My Personal Life
This year has been a fairly big year for me in my personal life. As I mentioned last time, I started working from home. To be closer to her office and so that I could have my own dedicated home office, my wife Abigail and I moved to a new apartment in Cambridge, MA.
In addition, this year I have started doing things I hadn't really done before: fundraising for charities I want to support, and exercising. Both at the same time, actually.
A close friend of mine inspired me to get involved with a fundraiser called Tread on Trafficking this summer. Over the course of 60 days I did over 1500 push-ups and 2500 crunches. At the beginning of the endeavor, I could do 4 push-ups before collapsing to the ground. By the end, I was doing 100 consecutive push-ups without stopping. The same was true of the crunches. At the beginning I could manage around 20 crunches in a row, but by the end I was doing 200 without a break.
The challenges were hard. Not just physically, but mentally. It was really hard to motivate myself to do the exercises even when I would get frustrated and my arms would feel so weak that I would collapse to the floor and manage to get rug burn because I fell so hard. But I did it.
We kept a calendar and literally put a gold star sticker on every day that I kept up with my training plans. I followed the 100 Push-ups Plan and the 200 Sit-ups Plan, both of which I found to be a good mix of gentle building and pushing me hard enough to keep progressing.
The Summer passed and as Fall started to settle into New England I stared to feel like I needed another challenge. A year or two before, Abigail and I had attempted the Couch to 5K program and failed miserably. We perhaps made it out for two runs before giving up.
We decided to try it again. To motivate us, we signed up for the Get Your Rear in Gear 5K. It was just far enough away that we could finish the training program so we had no room for slacking off. We recruited friends to run with us so we even had peer pressure to keep ourselves on track. It worked!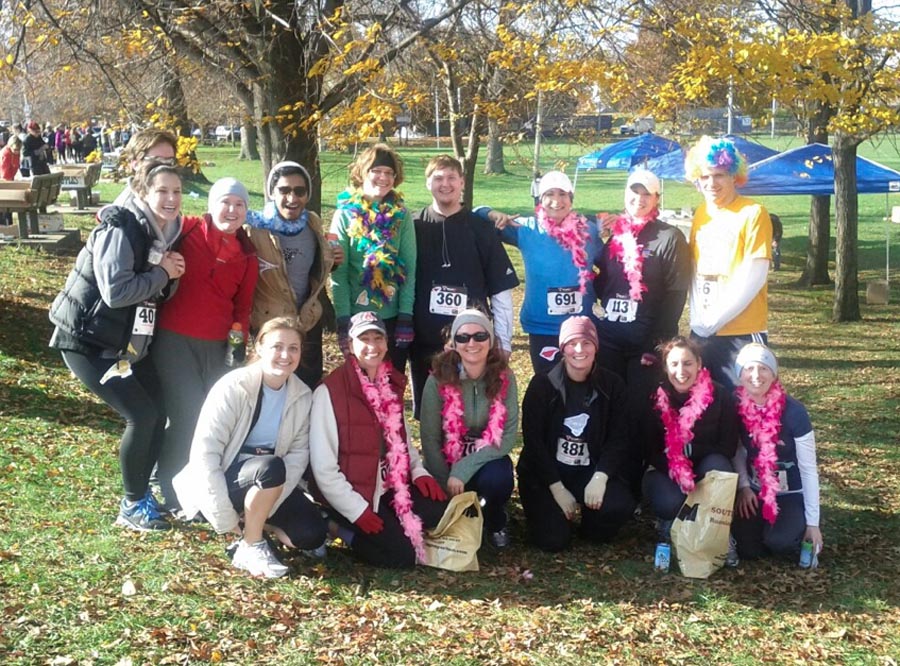 I don't think I had ever run more than a mile without stopping, but by race day I was able to run the full distance without stopping.
It really felt awesome to meet my goals and I felt even more blessed because so many of my friends and family supported me with encouragement and by sponsoring me in the fundraisers.
So thank you to all my friends and family, you inspired me and kept me motivated throughout the last year in my attempts to be more active.