Summer Squash Soup with Mint Parsley Pistou, Goat Cheese, and Roasted Lemon Fennel Chicken
Earlier this year I took a trip to Washington, DC to visit my co-workers at Phase2 and to speak at CapitalCamp 2013. It was a great trip and my talk went really well. If you're interested, I talked about some of the great things we've been building in partnership with The Robin Hood Foundation for the past few years. My talk is online at the CapitalCamp website: Weathering Storms: How Robin Hood Uses Drupal to Fight Poverty. Robin Hood is a wonderful organization and the work they've been doing in the wake of Superstorm Sandy has just been outstanding.
Okay, back to to the food.
Whenever I am in Washington, DC, I always try to find some way of cajoling my friends/co-workers into joining me for a trip to Founding Farmers, one of my all-time favorite restaurants. Their food is often locally sourced or sourced from within the United States, they are committed to sustainability, and their food is absolutely delicious. This past visit to Founding Farmers, I ordered Goat Cheese Ravioli with Honey Ginger Squash Puree with Roasted Fennel and Chicken.
This lame smartphone camera shot does not do it the justice it deserves; it was absolutely divine: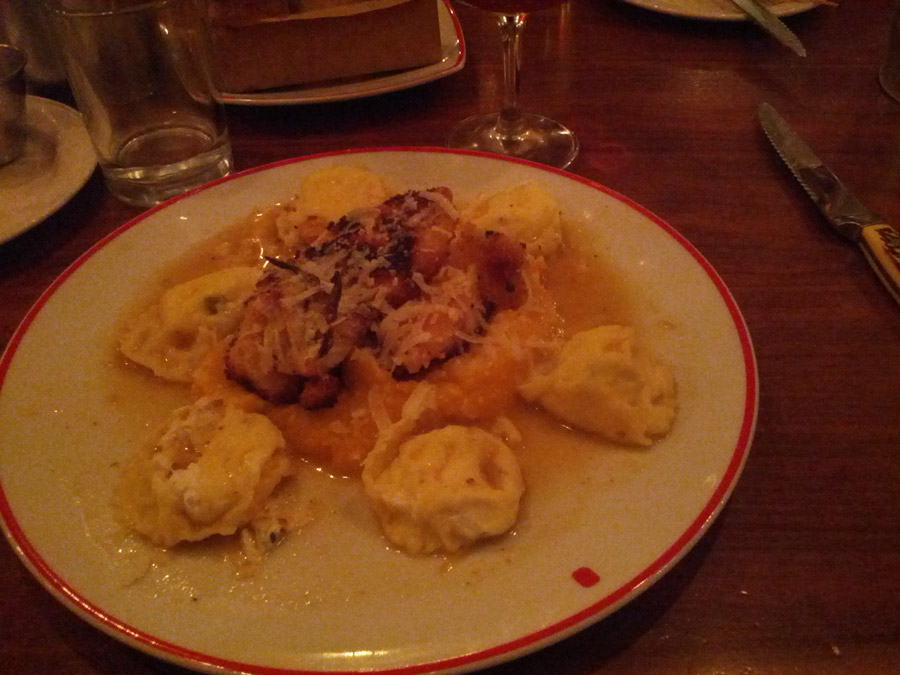 When I returned home, I discovered that our summer CSA from a local farm had provided to us a whole pile of fresh summer squash and some fennel! I knew exactly what I wanted to make. Doing a quick search for recipes led me to my favorite recipe site, Smitten Kitchen, and her Summer Squash Soup.
Before I knew it, I had a delicious pot of simmering soup on the stove, a fresh mint and parsley (with mint grown on our balcony) pistou, some crumbled goat cheese, and some chicken thighs roasted with fennel and garlic waiting to be devoured.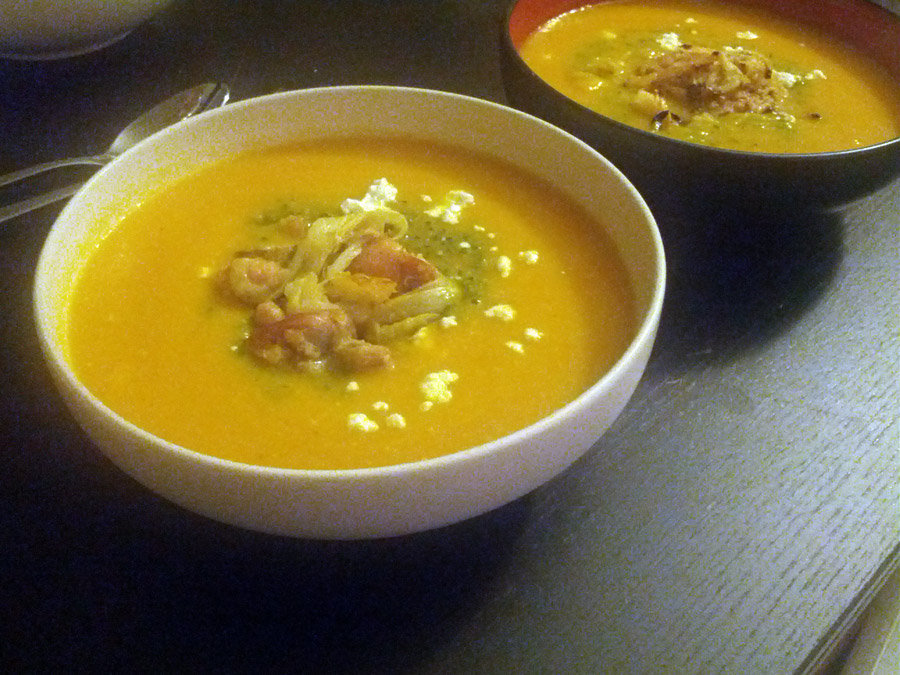 ---
Summer Squash Soup with Mint Parsley Pistou, Goat Cheese, and Roasted Lemon Fennel Chicken
Adapted from Smitten Kitchen, Summer Squash Soup
Serves: 6
For squash soup - 6 tablespoons unsalted butter, cut into pieces - 1 medium onion, chopped into large pieces - 1/2 teaspoon salt - 2 lb fresh summer squash, cut into chunks - 2 carrots, sliced - 1 medium to large sweet potato, peeled, cut into chunks - 4 cups chicken stock or reduced-sodium chicken broth - 4-6 ounces goat cheese, crumbled
For pistou - 3/4 cup loosely packed fresh mint leaves - 1/2 cup loosely packed fresh flat-leaf parsley sprigs - 1 large scallion or 1 small yellow onion, chopped - 1/4 cup extra-virgin olive oil - 2 tablespoons water - 1/4 teaspoon salt
For chicken - 4-6 chicken thighs - 1 lemon, for zest and juice - 2-3 fennel bulbs, cored, stalks discarded, and cut into 1-inch wedges - 3 cloves garlic, chopped coarsely - 1 tablespoon extra virgin olive oil - Salt and pepper to taste
For chicken, preheat oven to 400° Fahrenheit. Toss lemon juice, fennel, garlic, and chicken thighs with salt and pepper to coat evenly with oil. Spread chicken thighs, garlic, and fennel in a 9" x 13" glass baking dish. Roast in oven until juices run clear when chicken is pierced or chicken internal temperature reaches at least 165° Fahrenheit, about 20 - 30 minutes. Remove from oven and let rest for 10 minutes.
For soup, melt butter in a 6- to 8-quart wide heavy pot over medium heat, then sauté onion with salt, stirring, until softened, about 8 minutes. Add squash, carrots, potato, and stock and bring to a boil. Reduce heat, then simmer, partially covered, until vegetables are very tender, about 20 minutes. Remove from heat and cool soup, uncovered, 10 minutes.
Using a hand blender or working in batches and a food processor, purée until smooth (use caution when blending hot liquids). Season with salt and pepper to taste.
Make pistou while vegetables simmer: Pulse mint, parsley, and scallion/onion in a food processor until finely chopped. With motor running, add oil in a stream, then add water and salt, blending until incorporated.
Swirl pistou into each bowl of soup with crumbles of goat cheese and set a portion of chicken and fennel into the soup.
---